Drupal 8 Strategic Initiatives: What, Who, Why, and How?
9am, Friday, August 5
In this talk, Angela "webchick" Byron, Drupal 8 core committer and Product Manager, will be providing an overview and status update on the Drupal 8 strategic initiatives announced at DrupalCon New Orleans, including information on what these initiatives entail, what major priorities are being targeted for 8.2, 8.3, and so on, and how you can help push them forward.
About Angela Byron

Angela Byron, Senior Director of Product Management, Drupal at Acquia, is a Drupal core committer, recipient of the Google-O'Reilly Open 2008 Source Award for Best Contributor, co-author of the O'Reilly book Using Drupal, and an open source evangelist who lives and breathes Drupal. She got her start as a Google Summer of Code student in 2005 and since then has completely immersed herself in contributing to open source. Her work includes core patch review, improving the user experience of Drupal through the Spark project, strategic initiative coordination, testing and quality assurance efforts, improving and fixing documentation, and general community cat herding.
She lives near Vancouver, British Columbia, Canada and has an amazing daughter. She's obsessed with Drupal, getting new people (especially women) involved in open source, as well as just geeky computer stuff in general. When the keyboard is pried from her hands once or twice a year, she enjoys video games, logic puzzles, drawing silly cartoons, and political books/documentaries.
---
Creating a Culture of Empowerment - What it is, why it matters,
 and how it will improve
 your life and business
9am, Saturday, August 6
Drawing on more than 15 years of leadership at Four Kitchens and other creative organizations, Todd Nienkerk will explain why empowerment is the foundation of all successful teams and demonstrate how the open-source philosophy as modeled by the Drupal community can be applied to organizational culture.
About Todd Nienkerk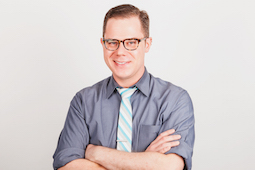 Todd is the CEO, Co-Founder, and Digital Strategist at Four Kitchens, where he and the other Web Chefs spend their days making big websites. His background in design, development, communication, and psychology provides him with unique insight into how people use technology: how we think, feel, interact, and form communities both off- and online.
Todd is happiest when he is mentoring and sharing his experience with other companies and business owners in the web industry. The business leadership and team empowerment philosophy Todd helped shape at Four Kitchens have garnered national attention. Four Kitchens has been featured in Forbes, Harvard Business Review, Entrepreneur, Inc., and Texas CEO to name a few. Four Kitchens was twice named one of the "Best places to work in Central Texas" by the Austin Business Journal, and Todd was a finalist for the Best CEO Awards in 2014 and 2015, as well as an Austin Under 40 Awards finalist in 2015. He has spoken at more than 50 conferences, including SXSW Interactive two years in a row.